Goalposts, Guideposts and Guillotines | PROVERBS - Pt 21
Jun 25, 2021
Blog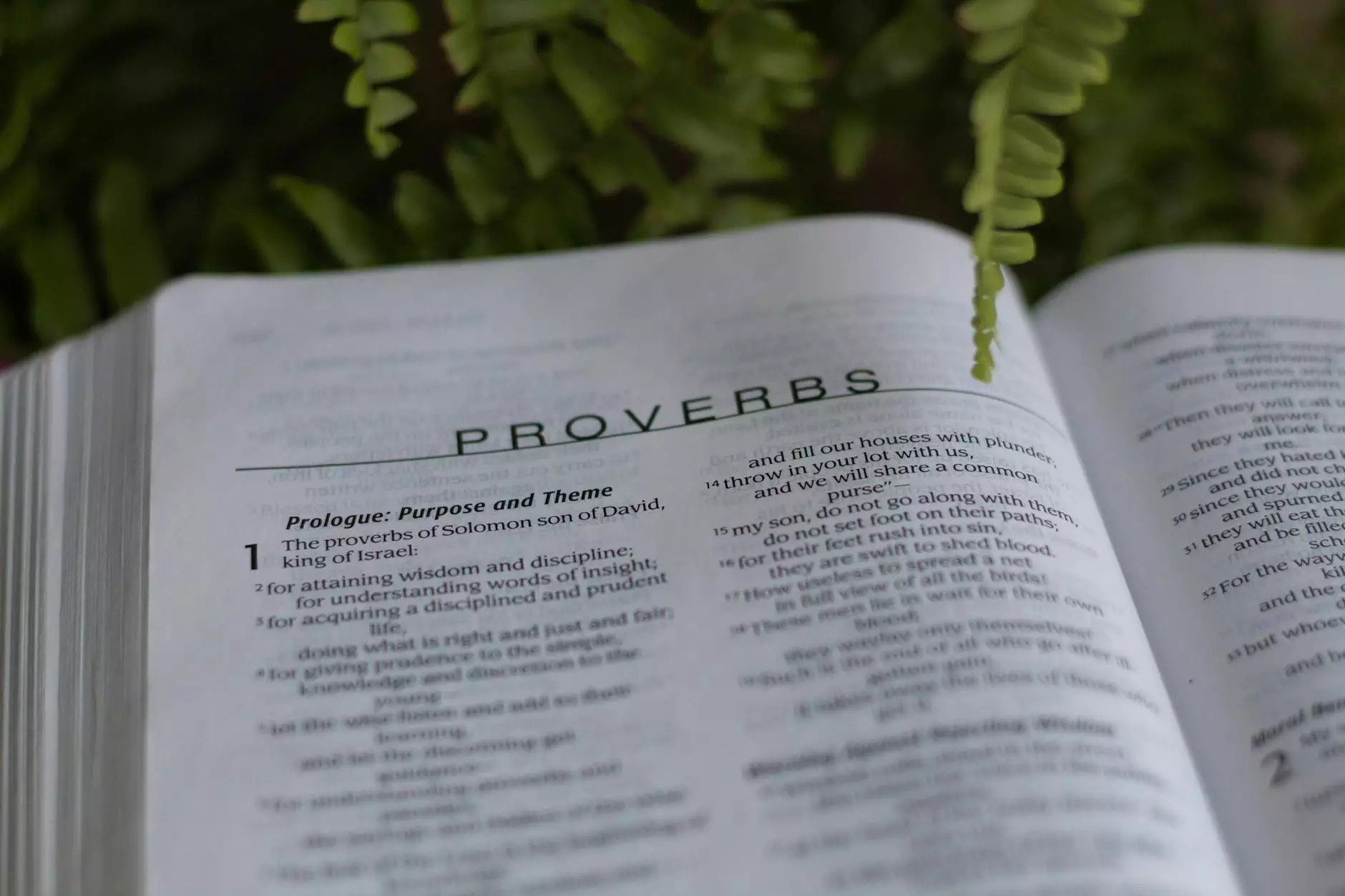 Introduction
Welcome to Calvary Chapel Abide's in-depth exploration of Goalposts, Guideposts, and Guillotines in the book of Proverbs. In this enlightening study, we will delve into the rich wisdom of Proverbs and uncover valuable insights and practical advice on navigating life's challenges. Join our vibrant community of believers as we journey through the depths of this profound book that has stood the test of time.
Understanding Proverbs
Proverbs, often referred to as the "Book of Wisdom", is a collection of timeless sayings and parables that provide guidance for daily living. Written by the wisest man who ever lived, King Solomon, the book encompasses a wide range of topics, offering wisdom, warnings, and principles that are applicable to both individuals and societies.
The Significance of Goalposts
In life, we often find ourselves striving towards various goals. However, it is crucial to set goalposts that align with God's will and purpose for our lives. Proverbs teaches us the importance of seeking wisdom, setting righteous goals, and staying accountable to God's principles while pursuing them. By anchoring our goals to the truth of God's Word, we ensure that our pursuits are in line with His perfect plan.
Navigating with Guideposts
Proverbs presents guideposts that act as beacons of light, illuminating the path we walk. These guideposts include principles such as integrity, humility, generosity, and love. By adhering to these guideposts, we not only experience a life of joy and fulfillment but also draw closer to God and become vessels of His love to those around us. Let the guideposts in Proverbs lead you towards a purpose-driven life steeped in God's wisdom and blessings.
Cautions and Guillotines
While Proverbs imparts invaluable wisdom, it also warns against the pitfalls and guillotines that can undermine our faith and success. By highlighting destructive behaviors and attitudes, Proverbs serves as a powerful cautionary guide. Discover the guillotines that can hinder your progress and avoid them with the discernment and understanding provided by the book of Proverbs.
God's Faithfulness in Proverbs
Throughout Proverbs, we witness the faithfulness of God in His promises, His provision, and His guidance. As we study and apply the insights found in this book, we gain a deeper understanding of God's character and the assurance that He is with us every step of the way. Allow the truths of Proverbs to strengthen your faith and bring you closer to the God who is always faithful.
Join Our Community
If you are seeking a community of believers who are passionate about growing in faith and understanding of God's Word, we invite you to join Calvary Chapel Abide. Our church provides a nurturing environment where you can find support, inspiration, and a deeper connection with God. We offer various programs, Bible studies, and fellowship opportunities that will enrich your spiritual journey. Come and experience the transformative power of God's wisdom in the book of Proverbs.
Conclusion
As we conclude this exploration of Goalposts, Guideposts, and Guillotines in Proverbs, may you be encouraged to pursue God's wisdom with diligence and conviction. Remember, every decision you make, every goal you set, and every path you choose can be guided by the timeless truths found in this remarkable book. Let Proverbs be your compass, leading you towards a life of purpose, fulfillment, and alignment with God's perfect will.
Keywords: Goalposts, Guideposts, Guillotines, Proverbs, wisdom, guidance, principles, God's Word, community, faith, understanding, support